Cette année les paniers seront disponibles à la ferme seulement! Pick-up this year at the farm, 975 Donaldson, l'Ange-Gardien.
15 semaines de légumes frais, certifiés biologiques par Ecocert Canada, de fin juin à début octobre. Chaque panier contient 7 légumes et une botte de fines herbes, le contenu variant selon les récoltes. 350 $ pour la saison. Option bouquet: 6$/semaine.
15 weeks of fresh vegetables, certified organic by Ecocert Canada. From late June to early October. Each basket contains 7 vegetables and a bunch of herbs. $ 350 for the season. You can also add an optional small bouquet for $6 weekly.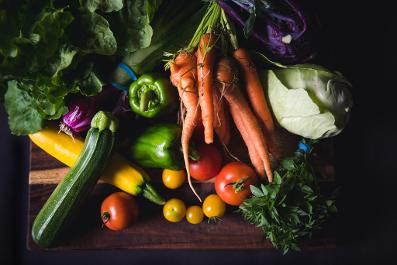 Exemple d'un panier de juin: oignons verts, radis, laitue, pois, kale, épinards, chou-rave, coriandre. Panier de septembre: tomates, aubergine, poivrons, zucchini, carottes, laitue, courge, basilic.
Typical spring basket: Green onions, radishes, lettuce, peas, kale, spinach, kohlrabi, cilantro. Typical late summer basket: Tomatoes, eggplant, peppers, zucchini, carrots, lettuce, squash, basil.